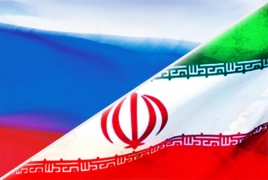 November 23, 2017 - 11:32 AMT
PanARMENIAN.Net - President Hassan Rouhani hailed Tehran-Moscow bilateral, regional and international cooperation in line with diplomatic settlement of crises and challenges, calling for promoting regional peace and underlining the need for bolstering all-out relations in various sectors, IRNA reports.
In a meeting with Russian president Vladimir Putin on the sidelines of the trilateral meeting of Iran, Russia and Turkey in the Black Sea resort of Sochi on Wednesday, November 22, president Rouhani appreciated Russia for hosting Sochi meeting, saying that the gathering is a major step in line with establishing sustainable peace and stability in Syria and the region.
President Rouhani also stressed the need for keeping up cooperation among Iran, Russia and Turkey in line with preserving Syrian national sovereignty and establishment of national congress of intra-Syrian dialogue.
Evaluating cooperation between Iran and Russia in various fields as significant and positive, the Iranian president stressed the need for attempts by the two countries' officials to expedite implementation of agreements.
'Development of Iran-Russia relations will benefit the two nations and the region and it will never do any harm to any other country,' he said.
President Rouhani voiced Iran's readiness for cooperation in the field of peaceful nuclear activities, saying that violation of JCPOA will not benefit any parties to it.
Joint Comprehensive Plan of Action (JCPOA) is the official name of the 2015 nuclear deal reached between Iran and six world powers.
'As Iran has announced repeatedly, it will never be the first to breach the deal, but it will not remain silent against its violation,' he said.
President Rouhani reiterated that JCPOA is an international and multilateral pact and its full implementation will be in the interest of all parties to it.
Expressing concern over Yemen situation, he called for international efforts to end massacre of people in the impoverished country.
Putin, for his part, said that Tehran-Moscow ties will further improve in areas of mutual interest.
Noting that there are suitable areas for collaboration between Iran and Russia, Putin said that joint efforts should be stepped up in line with political settlement of Syrian crisis.
He also welcomed continuation of peaceful nuclear cooperation and stressed the need for strengthening the JCPOA, saying that it is an international pact whose violation by a single country is unacceptable.