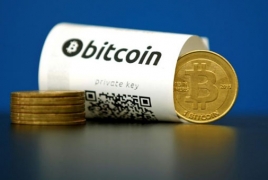 November 24, 2017 - 14:38 AMT
PanARMENIAN.Net - A draft decree on the Belarusian High-Tech Park which would legalize cryptocurrencies is awaiting the president of Belarus to sign into law. Among other provisions, if the law is passed, cryptocurrencies and initial coin offering (ICO) tokens will be approved for circulation. In addition, exchanges can trade rubles for cryptocurrency, ICOs can be used for financing, and mining will also be allowed by law in Belarus, Bitcoin's website says.
Belarus is a landlocked country in Eastern Europe, located between Poland and Russia. The country has a population of approximately 9.5 million.
In 2005, Belarus president Alexander Lukashenko signed a decree to begin an initiative to create an IT-focused special economic zone, similar to Silicon Valley in the U.S. The zone is referred to as the High-Tech Park (HTP). It is the only place in the country that provides tax benefits on a systematic basis. For example, HTP residents are exempt from income tax, value-added tax, land tax, and property tax.
In the summer of this year, a decree was prepared in order to facilitate the inflow of international investments and incorporate new technologies and innovations in the HTP. This draft decree, which has already been presented to Lukashenko to sign into law, includes provisions for cryptocurrencies and ICOs at the legislative level.
The decree will introduce "into the legal field not only cryptocurrencies but also the activities of the so-called miners," the publication detailed, noting that it will then be "possible to legally create major cryptocurrency mining centers in Belarus." Given the surplus and low cost of electricity in the country, experts believe that crypto mining "will create additional demand for electricity on a countrywide scale," the news outlet conveyed.
Belarus is also about to have its first centralized crypto exchange. Set to launch in the spring of next year, this exchange "will be the first in the territory of the Customs Union (Russia, Belarus, Kazakhstan, Armenia, Kyrgyzstan)."