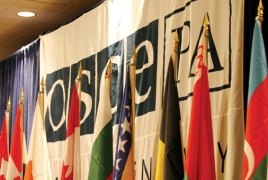 November 25, 2017 - 15:08 AMT
PanARMENIAN.Net - The Chairman of the OSCE Parliamentary Assembly, Gigi (George) Tsereteli has stressed the need to redouble efforts to resolve conflicts, including the one in Nagorno Karabakh (Artsakh), the Assembly's official website said.
"Whether we're talking about the conflicts in Ukraine, about Nagorno-Karabakh, or about the conflict in Georgia and occupation of territories – all of these have tragic human consequences each and every day," he said. "This must continue to be our focus."
The president underlined that parliamentary assemblies can contribute to confidence-building by serving as inclusive forums in which informal exchanges are as important as the official channels of discussion. He stressed that the parliamentary assemblies of the OSCE and the Council of Europe must continue to work together and face new realities while never compromising on principles. In particular, he noted avenues for co-operation on addressing migration and countering terrorism.
Tsereteli highlighted a number of new and enduring challenges requiring greater attention, including growing political and social tensions both within and between countries, as well as ongoing conflicts, radicalization, terrorism, populism, cybersecurity, migration, and organized crime.
"One of my priorities as president is to ensure that the OSCE is fully equipped to address these challenges, to uphold the founding principles of the Helsinki Final Act, promote common values, and lend the PA's contribution to resolving conflicts," the president said.
Tsereteli assumed the presidency of the OSCE PA on November 9.