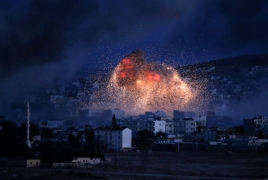 November 25, 2017 - 15:29 AMT
PanARMENIAN.Net - The Syrian Arab Army (SAA) resumed their offensive inside the strategic suburb of Jobar on Saturday, November 25 morning after taking a short hiatus to honor the de-escalation agreement, Al-Masdar News reports.
However, following the Free Syrian Army/Harakat Ahrar A-Sham offensive last week, the Syrian Arab Army made the decision to resume their offensive in the eastern suburbs of Damascus.
Led by their 105th and 106th brigades of the Republican Guard, the Syrian Arab Army scored a big advance this morning, capturing several building blocks inside of Jobar.
Following this advance, the Syrian Arab Army continued their push around the Taybah District and Al-'Arab Neighborhood, seizing more buildings from the combined forces of Hay'at Tahrir Al-Sham and Faylaq Al-Rahman.
The Syrian Arab Army is still on the move, as they attempt to take control of more building blocks from the rebel forces.