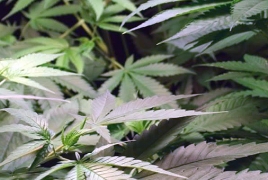 December 1, 2017 - 13:06 AMT
PanARMENIAN.Net - The Constitutional Court of Georgia on Thursday, November 30 supported a notion to decriminalize the consumption of marijuana, ruling that it is unconstitutional to criminally persecute a person for using marijuana, Tabula reports.
The lawsuit in the Constitutional Court was applied by Giorgi Shanidze, who was legally supported by the Girchi political party, which has been vocal against repressive drug policies in Georgia.
The plaintiff argued that being criminally prosecuted for the consumption of marijuana is a violation of his human rights, referencing Article 16 of the Constitutional Court of Georgia, that "everyone shall have the freedom to develop their own personality." Shanidze argued that criminalizing the use of marijuana contradicts this article.
In its decision, the Constitutional Court writes that every person has the right to choose their means of relaxation.
The defendants did not present any scientific research or examples which could serve as evidence proving that there is a higher risk of committing a crime or violate public health when a person is under the influence of marijuana.
Since 2010, there has been an active social campaign in Georgia demanding the liberalization of the country's drug policies. The first large demonstration in Tbilisi demanding the decriminalization of marijuana was held on June 2, 2013; there have been demonstrations for decriminalization on every subsequent June 2.