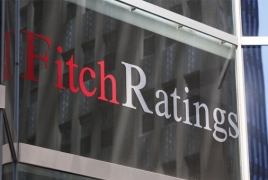 December 4, 2017 - 18:26 AMT
PanARMENIAN.Net - Fitch Ratings has affirmed Armenian capital city of Yerevan's long-term foreign- and local-currency issuer default ratings (IDRs) at 'B+' with stable outlooks and short-term foreign-currency IDR at 'B'.
Yerevan's ratings are constrained by those of Armenia (B+/Stable), in particular the country's institutional framework for local and regional governments, which Fitch assesses as weak. The ratings also factor in the city's capital status, satisfactory budgetary performance, supported by steady transfers from the central government, and zero debt.
Fitch expects the city to continue posting satisfactory fiscal performance with a lower single-digit operating margin in 2017-2019 (2016: 1.6%). The city's operating margin decrease is due to negative shocks resulting from the protracted slowdown of Armenia's economy in 2014-2015. We project a likely margin consolidation at this level. We also expect Yerevan to run close to balanced budget in 2017-2019 in line with historical result (2012-2016: average deficit 0.15%).
Yerevan's interim fiscal performance was satisfactory, with a surplus before debt variation of 4% of total revenue at end 9M17 (2016: surplus 1.5%). This was driven by spending 53% of annually appropriated expenditure, while collected revenue was 56% of the annual budgeted figures. Fitch notes that the city's expenditure is likely to accelerate in 4Q17, bringing fiscal performance closer to the previously projected minor deficit.
According to the base case scenario, the city will continue receiving financial support from the central government in line with its historical track record, as current transfers averaged 74% of the city's operating revenue in 2012-2016.
As of end-September 2017 the city was free from any debt or guarantees. Yerevan has maintained debt-free status since forming a community in 2008. Statutory provisions of the national legal framework guiding debt or guarantees issuance restrict the city from incurring significant debt. The city's interim liquidity position was healthy, with cash of AMD2.5 billion as of 1 October 2017 (2016: AMD1.4 billion). The city holds its cash in treasury accounts as deposits with commercial banks are prohibited under the legal framework.
Yerevan is likely to benefit from economic recovery in Armenia. In its macro forecast Fitch expects full-year growth of the national economy at about 3.4% yoy in 2017 and 3.6% in 2018. As the country's capital and most populated city, Yerevan is Armenia's largest market with a developed services sector. At the same time, Yerevan's wealth metrics remain relatively modest in the international context as we estimate Armenia's 2016 GDP per capita at USD3,490.
Changes to the sovereign ratings will be mirrored on the city's ratings, as Yerevan is capped by the ratings of Armenia.
In the absence of sovereign downgrade a significant deterioration of fiscal performance or material growth in direct risk, would lead to a downgrade.