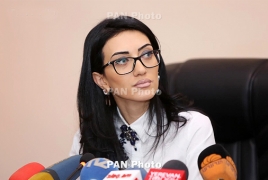 December 6, 2017 - 12:28 AMT
PanARMENIAN.Net - The Committee of Ministers of the Council of Europe has initiated a unprecedented judicial review of Azerbaijan's non-compliance with an ECHR ruling, head of Armenia's delegation to the PACE Arpine Hovhannisyan said in a Facebook post.
According to her, the Committee of Ministers has never ever made such a decision about any states before.
The move refers to the illegal conviction of prominent opposition politician Ilgar Mammadov.
"Both the Committee of Ministers and the Parliamentary Assembly have adopted a number of decisions since 2014, urging Azerbaijani authorities to release the politician, but even three years after the ECHR ruling, Mammadov still remains in jail," Hovhannisyan said.
According to the Armenian lawmaker, Baku was warned that a review will be launched in the ECHR Grand Chamber in case Azerbaijan fails to comply with the European Court's ruling.
"Nevertheless, Azerbaijani authorities chose to raise false accusations rather than implement the ECHR ruling," Hovhannisyan said.