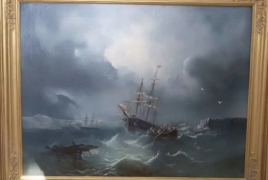 December 6, 2017 - 17:42 AMT
PanARMENIAN.Net - An Ottawa resident is selling an Ivan Aivazovsky painting auction value sails in uncharted waters.
According to Ottawa Citizen, the painting - titled "The Sea" - has some documentation including a certificate of authenticity – part of which was done by the Artistic Commission of Tretjakov Gallery in Moscow, 1971. It was initially bought directly from the artist and was in one family's hands for 70 years.
The seller says he cannot find a signature, but perhaps it is under the frame.
"We would like to sell it, but don't know how, and can't seem to come up with a current market value on it," Rob the seller says.
Aivazovsky was Armenian, and spent much of his life in the Black Sea area of Crimea.
He studied at the Academy of Fine Art in St. Petersburg, and is considered to be Russia's premier marine painter. Seascapes were his mainstay, and for a time he was chief painter to the Russian Navy.
He was prolific, producing thousands ofpaintings during his career. He became known for imbuing his work with both gorgeous light effects and palpable emotion.