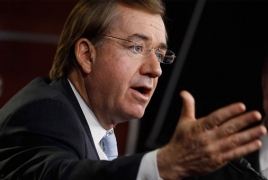 December 9, 2017 - 12:23 AMT
PanARMENIAN.Net - The United States appreciates Armenia's efforts in protecting Christianity and giving refuge to Christians, House Foreign Affairs Committee Chairman Ed Royce has said, the Voice of America reports.
According to him, the founding fathers of the U.S. built the country based on first and foremost the values of the Bible.
He said the United States should take up the responsibility to protect Christians, citing the situation in the Middle East, persecutions against religious minorities and the religious violence.
Addressing the International Conference on Religious Freedom in Washington, the Congressman called for making use of massive diplomatic levers and the power of the United States to put an end to the persecution of Christians.
Royce said he has recently visited Christian churches in Iraq, met with the locals and the Christians who fled the Middle East to Armenia.
One of the reasons that the U.S. continues to support Armenia is that the latter has sheltered a number of refugees, he added.