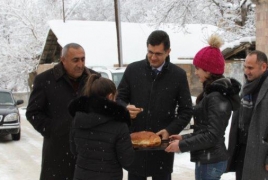 December 9, 2017 - 15:16 AMT
PanARMENIAN.Net - In the framework an eco-village network development project, the Foundation for the Preservation of Wildlife and Cultural Assets (FPWC) and its general partner VivaCell-MTS continue the installation of outdoor lighting systems in the remote villages of Armenia.
This time the main streets of the village of Karaglukh of Eghegis community in Vayots Dzor province, covering 1,872 m- long territory, were illuminated after 52 LED lights were installed there.
Installation of energy-efficient systems is one of the main preconditions of community development. LED lights are environmentally friendly and contribute to the sustainable use of natural resources. The introduction of energy-efficient technologies reduces financial expenses of the community, makes the community life more vibrant, as well as contributing to a sustainable and clean environment.
VivaCell-MTS General Manager Ralph Yirikian, the FPWC founder Ruben Khachatryan, Eghegis community head Artur Stepanyan and the village residents attended the launching ceremony of the state-of-the-art lighting system.
"Hope and faith in future are crucial for everyone. Lack of proper illumination is unacceptable in our times; while, solving the problem with consideration of environmental matters is a necessity. I want to believe that we will have the results we anticipate in the long-term," said Yirikian.
Compared to regular bulbs, LED lights are more energy-efficient and durable, and can serve for a much longer period consuming 80% less electricity.
The streets of the village will be illuminated from 21:00 till 02:00 in summer, and from 18:00 till 01:00 in winter. During holidays, illumination will be provided all night long.
The project allows the villages to integrate in the process, encompassing four components of sustainability: environmental, economic, cultural and social.