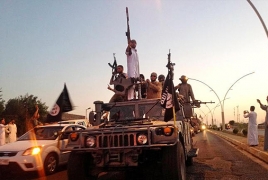 December 11, 2017 - 16:44 AMT
PanARMENIAN.Net - The Islamic State (IS) group announced on Monday, December 11 afternoon that they have begun a new battle in the northwestern countryside of Albukamal city, Al-Masdar News says.
The terrorist group's statement did not specify in particular which town or village their forces were going to attack in the Albukamal countryside.
IS' statement comes just hours after their forces lost more than 2,000 square kilometers of territory to the Syrian Arab Army (SAA) and their allies in the southwestern countryside of Deir ez-Zor.
IS will likely target the recent gains by the Syrian Army in a bid to reestablish a presence along the western bank of the Euphrates River.