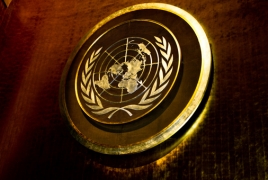 December 12, 2017 - 13:16 AMT
PanARMENIAN.Net - Representatives of some Arab countries in the UN sent a draft resolution to the Security Council and the General Assembly calling for repeal of US President Donald Trump's decision to move his country's embassy from Tel Aviv to Jerusalem, IRNA reports.
On Monday, December 11, the draft resolution was sent to the Security Council and the member states called for a special meeting to present a similar draft resolution.
Permanent Representative of Iraq to the United Nations Mohammad Hussein Ali Bahr Aluloom proposed that the Arab countries' ministers form a group of international movement against Trump's decision and the consequences of his move for peace and security in the region.
Last Wednesday, Trump recognized Jerusalem as the capital of Israel and ordered the US embassy be moved from Tel Aviv. The city is a holy place for all Muslims around the globe and is an inseparable part of Islamic sanctities.
The decision is an overt violation of the UN resolutions; the UNSC Resolution 2334, issued on December 23, 2016, underlined, 'It will not recognize any changes to the 4 June 1967 lines, including with regard to Jerusalem, other than those agreed by the parties through negotiations.'