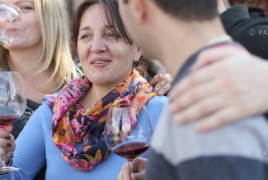 December 13, 2017 - 12:40 AMT
PanARMENIAN.Net - Sommelier and Consultant Rebecca Meir-Liebman in an article published on Canadian wine writer Natalie MacLean's website provides five reasons to visit Armenia for enjoying the country's age-old wine traditions.
There is a great energy in Armenia, with new wineries, wine bars, and wine shops popping up everywhere, many of them owned by Armenians who, returning from abroad, are investing heavily in the renaissance, Meir-Liebman says.
According to the author, Armenian wines are unique and Armenia is one of the world's most fascinating wine regions, while the Armenian wine industry is about to make a big splash.
1. Armenia's wine culture has deep roots
It's in Armenia that the oldest known wine cave dating back 6200 years has been found. This cave, named Areni- 1, is located in the Vayots Dzor Region of southern Armenia.
Discovered in 2007 and excavated until 2013, archeologists discovered well-preserved vats, long clay basins, grape seeds, wine presses, and drinking cups. But they found more than the remains of wine production; they also uncovered the oldest known leather shoe, a human skull, and ancient graves, all which suggested to the experts that the wine was possibly linked to spiritual rites and rituals, especially considering the science of fermentation was still perceived as magic.
2. Armenia's unique indigenous grapes
For the most part, Armenian winemakers and vine growers decided to focus on the grapes that naturally grew in Armenia. These grapes are at home in Armenian soils and withstand whatever the continental climate throws at them. Armenia boasts 400 native varieties, 55 cultivated varieties, with 31 of the cultivated varieties used in winemaking.
Some of them are Areni Noir, Kangun and Voskehat.
3. Ancient tradition of winemaking – karas and Armenian oak
Karas are large clay pots that were used to ferment and age wines in Armenia more than 6000 years ago; they were discovered in an ancient wine cave, Areni-1. A few wineries, such as Zorah Winery and Voskevas Winery, have embraced this ancient tradition, in pursuit of creating wines that are true to their origins.
4. You support the rebuilding of a nation while enjoying great wines
Armenia has a population of three million, but there are more than three million Armenians living abroad – a situation caused by the Armenian genocide of 1915 – 1920, where as many as 1.5 million Armenians were killed.
It takes decades for a country to heal from this degree of devastation, both economic and cultural, and Armenian ex-pat winemakers and investors have taken up the cause, by returning home to rebuild their wine industry. The Armenian Wine Company (AWC) is helping to develop the wine industry, while creating employment and tourism opportunities.
5. Quality at a fraction of the price
Unlike regions such as California or Burgundy that have established a great reputation around the world and can therefore demand top dollar for their products, Armenia still has a way to go. The good news is, Armenian wines are an excellent value for money, offering great quality at wallet-friendly prices.