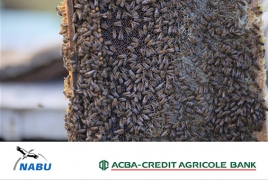 December 15, 2017 - 16:23 AMT
PanARMENIAN.Net - The results of the Organic Agricultural Development 2017-2018 program jointly implemented by ACBA-CREDIT AGRICOLE BANK and Nature and Biodiversity Conservation Union in Germany (NABU) have been summarized.
For determining the outcome of the contest, priority has been given to those organizations whose certification will offer wider export opportunities, enabling them to create more jobs. The fact of working in border communities has also been considered.
As a result, 15 companies out of the 70 applicants were named winners.
Organic Agricultural Development has been implemented annually since 2015. In the framework of the program, 30 entrepreneurs have received organic certification. With the support of German specialists, the project beneficiaries have been trained each year. More than 50 new jobs have already been created, and 70 more are planned to created in 2017-2018.
Organic Agriculture Development project is implemented for the clients of ACBA-CREDIT AGRICOLE Bank.
The winners are:
1. Darman Tea
2. Orwaco
3. Nairian
4. Lukashin Agricultural Association
5. Agrolog Industrial Cooperative
6. New Edesia farmers' group
7. Armberry
9. "Ar Sahman" Ltd
10. Farmer Ashot Qalashyan, Syunik
11. Farmer Geghayr Zurnachyan, Tavush
12. Farmer Khachatur Gevorgyan, Syunik