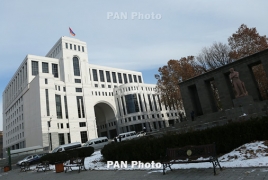 December 16, 2017 - 15:21 AMT
PanARMENIAN.Net - Ankara is not ready to normalize relations with Yerevan, the Armenian foreign ministry said after Turkey claimed it is "still committed" to the Protocols signed with Armenia in 2009, "despite Yerevan's negative stance".
A written statement issued by the Turkish Foreign Ministry on December 14 read: "Despite Armenia's negative stance on the Protocols, Turkey is committed to the primary clauses of the Protocols. These Protocols are still on the agenda of the Turkish Grand National Assembly's Foreign Affairs Commission. For their ratification it is essential that a favorable political atmosphere and peace in the South Caucasus be secured."
The Turkish ministry's comment regarding the Armenian-Turkish relations "is yet another flagrant example of distortion of the letter and spirit of the Zürich Protocols of 2009."
Citing Armenia's readiness to normalize relations with Turkey without preconditions, the foreign ministry said Ankara doesn't shy away from voicing once again its preconditions, linking the Armenian-Turkish relations to the Nagorno Karabakh conflict settlement in favor of Azerbaijan, at the same time making redundant reference to the UN Security Council resolutions, which have nothing to do with the negotiation process.
"The Turkish side refused to ratify the Protocols and intentionally brought the whole process to a stalemate. This was the very reason that compelled Armenia to suspend the ratification procedure, while staying in the normalization process, and this was duly acknowledged and welcomed by the leaders of different countries," the Armenian side's statement said.
"It is obvious that even today, years after signing of the Protocols, Ankara is not ready yet to normalize the Armenian-Turkish relations."