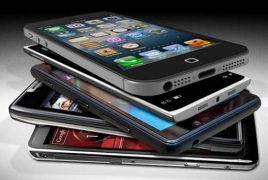 December 18, 2017 - 13:40 AMT
PanARMENIAN.Net - Researchers from the California Department of health came to the conclusion that one should sleep at a distance of at least 80 centimeters from the smartphone. Otherwise, users of gadgets at risk of serious health problems due to radiation exposure, the Mice Times says.
According to scientists, excessive mobile phone use can lead to inattention, mental health problems and reproductive health and even to cancer.
This is because the transmission of information gadgets is carried out using low-frequency radio signals, which can lead to serious radiation. Proof of this is a lot of tests. However, to prove the "critical danger" of smartphones for health scientists have not yet succeeded.
Scientists are particularly concerned about the periods when the smartphone is near a sleeping person. Recently users tend to put gadgets near your head, as they replace their alarm clock. However, the researchers warn that the phone should be put at arm's length from yourself.