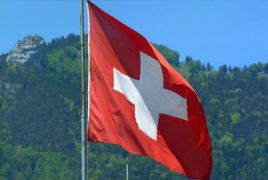 December 19, 2017 - 16:34 AMT
PanARMENIAN.Net - Iran has summoned the ambassador of the Swiss Embassy in Tehran which represents the United States interests in Iran, to protest the groundless claims of the U.S. envoy in the United Nations, IRNA reports.
'The director general for America at Iran's Foreign Ministry, condemned Nikki Haley's provocative, irresponsible, and groundless remarks claiming that Iran has sent missiles and ammunition to Yemen based on fake documents and submitted Iran's note verbale to be delivered to the U.S.,' Bahram Qassemi said.
Qassemi added, 'The U.S. was mentioned as the main cause of crisis in Yemeni by engaging in the killing of the Yemenis through selling the Saudis billions of dollars of deadly weapons, including cluster bombs, and it was said that the US is the violator of the UN resolutions about Yemen. Instead of answering the world community, the U.S. intends to deceive people by using the worn-out technique of accusing other countries and supporting the invading ones.'
Regarding the content of the letter, Qassemi said, 'The note verbale rejects all the accusations regarding Iran sending missiles to Yemen, and says that the measure is an explicit instance of encouraging violence and war and that the US government will be responsible for its serious possible consequences.'
The Swiss ambassador promised to convey the message to the U.S. government as soon as possible.