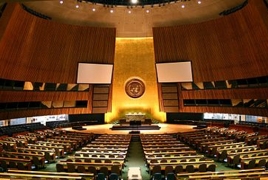 December 22, 2017 - 14:25 AMT
PanARMENIAN.Net - Armenia joined 128 other nations on Thursday, December 21 when the United Nations voted overwhelmingly to condemn U.S. President Donald Trump's decision to recognize Jerusalem as the capital of Israel despite threats from the U.S. to pull funding from the world body.
Furthermore, while nine voted "no," and 35 nations abstained, including Canada, Mexico and Australia, CNN says.
The vote came after U.S. Ambassador to the UN Nikki Haley issued a direct threat, saying that the U.S. will think twice about funding the world body if it voted to condemn Trump's decision.
"The United States will remember this day in which it was singled out for attack in this assembly," Haley said. "We will remember it when we are called upon to once again make the world's largest contribution" to the UN and when other member nations ask Washington "to pay even more and to use our influence for their benefit."
The U.S. was joined in its "no" vote by Israel and a slew of small nations, including Micronesia, Nauru, Togo and Tonga, Palau, the Marshall Islands, Guatemala and Honduras.
Other abstainers included the Czech Republic, Poland, Hungary, Croatia and South Sudan.