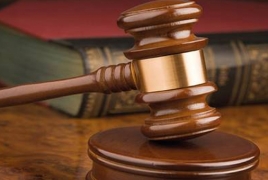 January 11, 2018 - 15:59 AMT
PanARMENIAN.Net - Glendale officials will pay $550,000 to a former police lieutenant as a settlement for a lawsuit filed against the city that alleged she was denied a promotion because of her race and gender, The Los Angeles Times reports.
Filed in May 2016, the suit filed by an Armenian-American woman, Ludmilla Abrahamian, claimed bias during the promotion process for a captain's position at the Glendale Police Department. The suit alleged the bias came at the behest of then-Chief Robert Castro.
Ann Maurer, chief assistant city attorney, said in an email the settlement is "not an acknowledgment of any wrongdoing by the city or its employees."
"The city's position has and continues to be that the allegations of discrimination and retaliation are unfounded," she said.
According to the settlement agreement, the $550,000 payment was broken down into $66,000 for lost wages, $264,000 for alleged emotional distress or physical sickness and $220,000 for attorney's fees. Abrahamian also agreed to retire from the department, which occurred last month.