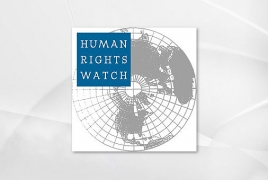 January 12, 2018 - 14:46 AMT
PanARMENIAN.Net - Human Rights Watch has prepared a feature about Armenia's failure to protect and help domestic violence survivors, expressing hope that a new law adopted in late 2017 will enhance safety, services, justice.
The lives and well-being of women and children in Armenia who have survived domestic violence are in jeopardy because of the Armenian government's failure to ensure their protection, Human Rights Watch said today. In December 2017, Armenia's parliament passed a law on violence in the family, but women and children remain at risk until the government comprehensively changes how police respond to complaints of violence and provides accessible, quality services for survivors, the organization says.
Human Rights Watch spoke with 12 survivors of severe domestic abuse in Armenia. The women said their husbands or male partners punched and kicked them, raped them, struck them with furniture and other objects, confined them in their homes, stalked them, and threatened or attempted to kill them with knives or other sharp objects. Five women said the attacks against them continued during pregnancy; three said they had miscarriages after their husbands beat them.
The new law requires police to urgently intervene "when there is a reasonable assumption of an immediate threat of repetition or the continuation of violence" in the family. Urgent measures include police removing the alleged attacker from the home and prohibiting them from approaching or communicating with the victim. Courts can issue six-month protection orders, with two possible three-month extensions.
Many women said they lived with their abusers for years because they had no means of escape. The country has only two domestic violence shelters, both in the capital, Yerevan, run by nongovernmental organizations, each with a capacity for five women and their children. Council of Europe standards call for at least one specialized shelter in every region, and one shelter space per 10,000 people. With a population of approximately 2.9 million, Armenia should have approximately 290 shelter spaces. The new law mandates creating government-run shelters, but does not specify the number of shelters or their capacity.