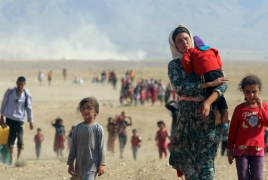 January 16, 2018 - 11:51 AMT
PanARMENIAN.Net - The Armenian parliament adopted on Tuesday, January 16 a joint statement of all parliamentary factions "On the condemnation of the genocide against the Yezidi people in 2014, carried out on terrorist-controlled areas in Iraq."
According to deputy chairman of the standing committee on state and legal affairs and human rights Rustam Makhmudyan, the Armenian people who survived the Genocide could not ignore such acts against humanity.
According to him, there is a lot of evidence such crimes were indeed committed.
"In particular, more than 800 Yezids were killed in Sinjar by terrorists on August 3, 2014, while 5,000 women and girls were taken hostage and sexually exploited," Makhmudyan said.
"We attach great importance to the prevention and condemnation of such grave crimes, as well as to the punishment of the guilty, especially given that tens of thousands of Yezidis were killed in the atrocities, many were taken hostage, while about 200,000 others became refugees."
The Islamic State of Iraq and the Levant is recognized by the United Nations as the perpetrator of a genocide of Yazidis in Iraq. The genocide has led to the expulsion, flight and effective exile of the Yazidis from their ancestral lands in Northern Iraq.
On 14 March 2016, the United States House of Representatives voted unanimously 393-0 that violent actions performed against Yazidis, Christians, Shia and other groups by ISIL were acts of genocide.