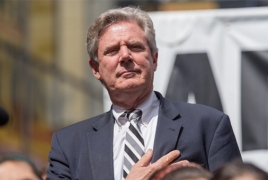 January 18, 2018 - 10:31 AMT
PanARMENIAN.Net - Congressional Armenian Caucus founding Co-Chair Frank Pallone (D-N.J.) on Wednesday, January 17 called on his Congressional colleagues to break down artificial barriers to unrestricted travel and open communication between the United States and Artsakh (Nagorno Karabagh), with the introduction of the U.S.-Artsakh Travel and Communication Resolution, reported the Armenian National Committee of America (ANCA).
"The United States should be supporting the free flow of dialogue and ideas across the globe," said Rep. Pallone. "Artsakh has a successful democratic government and it should not be precluded from interacting with the United States and other nations. My visit to Artsakh in September further revealed the enormous strides that Artsakh has made in recent years, and others should be given the same opportunity that I had. "Rather than hindering our relationship with Artsakh through non-recognition, the United States should embrace increased communications and travel to Artsakh," concluded Rep. Pallone.
"We thank Congressman Pallone for taking a legislative sledgehammer to the walls that have, for far too long, prevented the very type of open dialogue that is so very necessary for a durable and democratic Artsakh peace," said ANCA Chairman Raffi Hamparian. "Our U.S. interests and American values are served by the open and unrestricted exchange of views among all regional stakeholders, the ability of U.S. policymakers to travel to Artsakh and witness first-hand the progress of this proud republic in the face of ongoing Azerbaijani aggression, and, ultimately, by a greater level of understanding among U.S. leaders and all regional stakeholders of the imperative of peace and the necessity of avoiding a renewed war."
The U.S.-Artsakh Travel and Communication Resolution praises the Artsakh Republic for having "developed democratic institutions, fostered a pluralist political system, and, over the past quarter-century, held parliamentary and presidential elections that have been rated as free and fair by international observers." It also highlights Artsakh's commitment to common-sense peace initiatives, first advocated by House Foreign Affairs Committee Chairman Ed Royce (R-Calif.) and Ranking Democrat Eliot Engel (D-N.Y.), calling for the removal of snipers and heavy artillery from the Artsakh-Azerbaijan line of contact, the deployment of additional Organization for Security and Cooperation in Europe (OSCE) monitors, and the placement of gun-fire locator systems along the lines of contact. The measures, which have been embraced by Armenia, Artsakh, and the OSCE Minsk Group peace negotiators, have been thus far blocked by Azerbaijan.