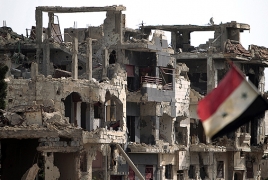 January 18, 2018 - 11:48 AMT
PanARMENIAN.Net - The UK Ministry of Defence has announced that RAF Reapers, Typhoons and Tornados struck every day last week, providing air support to the Syrian Democratic Forces (SDF) and clearing Islamic State fighters from the Euphrates valley.
Around 130 UK-linked nationals have been killed in the fighting in the region as the coalition air campaign continues its battle to degrade terrorist cells.
Defence Secretary Gavin Williamson said: "As the threats we face rapidly evolve and intensify, the work our brave armed forces do is paramount to our security at home and abroad, The Express and Star says.
"We have been clear that Daesh terrorists have nowhere to hide and we will continue to fight until their poisonous global network is totally destroyed."
According the the MoD, RAF and coalition aircraft struck three terrorist drone teams earlier this week – marking the first time such targets have been wiped out.
Enemy forces are increasingly using drones in the battlefield.
Read more at https://www.expressandstar.com/news/politics/2018/01/18/raf-bomb-isis-drone-operators-for-the-first-time/#le96ib1Wpoht16u2.99