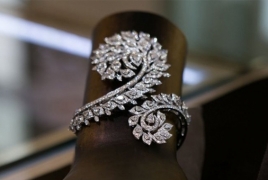 January 18, 2018 - 18:35 AMT
PanARMENIAN.Net - Artinian, the fine jewelry house from Armenia, has been relying on the exquisite craftsmanship of Thai artisans for more than two decades. Last month it celebrated their skills as well as the first anniversary of its opulent boutique, Maison Artinian at the Mandarin Oriental Bangkok in style with a press lunch and an afternoon tea at the hotel's Joseph Conrad terrace, The Nation says in an article about how Artinian reached Thailand and prospered there.
The event highlighted the story behind its "Carats and Canvas" concept, which brings together Arto Artinian of Artinian and Satoro brands and Bangkok-based Danish artist Elizabeth Romhild and also featured a show of exquisite diamond jewelry sets complemented by Romhild's original art.
At Maison Artinian, artists muse and collaborate on collections, offering a beautiful selection much admired by customers with socially engaged, urban lifestyles. President and founder Artinian is proud of the company's success, crediting his staff of Thai artisans for the aesthetic creations that intrigue with their sophistication, heritage and sparkle.
"Artinian has been in Thailand for 22 years. As a manufacturer, we didn't want to sell products under our own name until we had our own collection. Today, we offer a range of precious pieces including a choker and luxury earrings set featuring pear-cut yellow diamonds of 49.87 karats. The "Oriental Moonlight" collection, which was inspired by the colour of the night sky and twinkling stars, combines blue sapphires of 165.28 karats and diamonds of 160.96 karats.
"The "Parisenne" collection of a necklace, bracelet, earrings and ring in contemporary design has an elegantly large pear cut diamond in the centre while the "Etoiles D'amore" set has a tiara and matching earrings," he says.
Artinian's sister brand, Sartoro, which gets it name from Arto and his brother, Saro, the co-founder and design development director, offers more easy-going, contemporary designs while maintaining the level of craftsmanship.
Sartoro showed off its designs at the event, highlighting the Peacock collection featuring a long necklace, earrings, ring and bracelet made from pink and white gold, blue sapphire, emerald, tanzanite, turquoise and Akoya pearls.
The Plume line boasts a Marquise design in neoclassic style and is a perfect mix between artistic haute couture and modern design while the "Riviere" collection is a set of jewelry with Marquise cut diamonds and blue sapphire. Gaia celebrates the return of Renaissance art with a classic design and the Happy collection has a simple yet stylish look that can be worn for occasion.
"As I have said before, Thailand is home to highly skilled artisans and that was one of the reasons we came here. Jewelry is interesting in that it is still made by hand. 3D printing might have made jewelry industry more technologically advanced but the human touch is very important. At Artinian, we use high-end technology for high volume production where the client wants a specific look. We are also very particular about the type of diamonds we buy and focus on the purity of stones," he says.
Arto Artinian is the Honorary Consul of Armenia to Thailand.