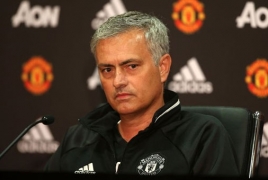 January 19, 2018 - 18:35 AMT
PanARMENIAN.Net - Jose Mourinho insists he remains "calm" about Manchester United's pursuit of Alexis Sanchez but is still waiting for the transfer to be completed.
The United manager also said Henrikh Mkhitaryan, who reported for training this morning, would be omitted from the squad to face Burnley tomorrow as the Armenia midfielder edges closer to a move to Arsenal, The Telegraph reports.
United would have had to complete a deal for Sanchez by noon on Friday, January 19, for the Chilean to be available to face Burnley but that deadline has passed without the transfer being finalised.
"There's nothing new, I think clearly everybody knows that we are there and especially when the Arsenal manager speaks so clearly like he did," Mourinho said.
"There is no point in trying to hide or deny but [the transfer is] not done at all, so in this moment Mkhitaryan is our player, Sanchez an Arsenal player and with a match tomorrow I want to switch off and focus on the most important thing, which is the match."
Asked if the Sanchez deal was dependent on Mkhitaryan moving in the opposite direction to Arsenal, Mourinho added: "I don't know. Sometimes people think transfers involve a lot the managers in the negotiations, I think it depends on the profile of the club, the way we establish our jobs and in my case when it goes to the table of negotiations I like to be out, I am out and I will just calmly waiting for news, no more than that.
"I will speak with you if one day we sign him, I can speak with you about him and what he can bring to our team. He's an Arsenal player, he's not my player, there's no point in me speaking about something that may or may not happen.
"My involvement in the situation is just to say the reasons why I would like to have the player and no more than that, I'm out."