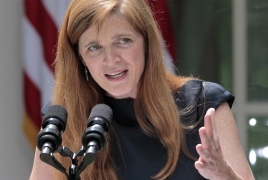 January 20, 2018 - 11:12 AMT
PanARMENIAN.Net - Two top aides to former President Barack Obama say his administration failed by not officially declaring that the mass slaughter of Armenians roughly 100 years ago constituted Genocide — a topic that threatens America's fragile relationship with Turkey, Politico reveals.
"It was a mistake," said Ben Rhodes, who served as a deputy national security adviser in the Obama administration. "We should have recognized the Armenian Genocide."
"I'm sorry," added Samantha Power, Obama's ambassador to the United Nations. "I'm sorry that we disappointed so many Armenian Americans."
The two shared their regrets earlier this week in response to an audience question during an episode of Pod Save the World, a podcast hosted by Tommy Vietor, another former Obama aide. Their statements were unusually frank given the sensitivity of an issue that has bedeviled U.S. presidents for years.
Turkish leaders have warned for years that official U.S. recognition of an Armenian Genocide would inflict grave harm on their relationship with Washington, potentially including ending U.S. access to a military base in southern Turkey. Several European countries have formally recognized the massacre as Genocide, usually drawing diplomatic retaliation from Turkey.
As a presidential candidate in 2008, Obama promised that he would formally recognize an Armenian Genocide as historical fact. But as president, he passed up multiple chances to do so, including in 2015, when Armenians marked the 100th anniversary of the atrocities.
"Every year there was a reason not to," Rhodes explained. "Turkey was vital to some issue that we were dealing with, or there was some dialogue between Turkey and the Armenian government about the past."
"Frankly, here's the lesson, I think, going forward: Get it done the first year, you know, because if you don't it gets harder every year in a way," Rhodes added.
Power, who won a Pulitzer Prize in 2003 for a book criticizing America's historical inaction toward genocide and mass killing, suggested that the administration was "played a little bit" by Turkish leader Recep Tayyip Erdogan and others invested in delaying a Genocide declaration.
Ultimately, U.S. officials won't be able to keep tip-toeing around the truth of what happened, Power added.
"Just tell the truth. It's safer in the long run," Power said.