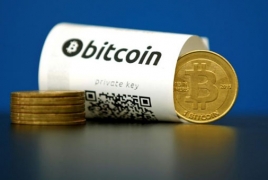 January 23, 2018 - 16:43 AMT
PanARMENIAN.Net - American bitcoin expert Nick Spanos, CEO of Blockchain Technologies Corporation, will visit Armenia starting Wednesday, January 24 on a trip to discuss the prospects for cryptocurrency innovation in the country, Blocktech Corp. said in a statement.
Nick Spanos, one of the earliest adopters in the blockchain space, founded Bitcoin Center NYC in 2013 as the first physical bitcoin exchange, located right next to the New York Stock Exchange. He was also featured in the acclaimed documentary "Banking on Bitcoin." He is the co-creator of the Zap.org project, which relies on the oraclization of data feeds to connect them to smart contracts thereby solving the most pressing problem of the Ethereum blockchain.
Over the past months, Spanos has advised governments on becoming early adopters of cryptocurrency and using blockchain to become regional and international tech hubs. In November, he keynoted at the Belarus Blockchain Conference, after which the President of Belarus issued a landmark decree liberalizing the country's policies towards cryptocurrency.
The meeting has been planned in close collaboration with the embassy of Armenia to Denmark, lead by ambassador Alexander Arzoumanian. He states: "We are proud to bring the highest level of expertise to Yerevan to accelerate the blockchain community. Spanos is a blockchain artist and I could imagine no better person to help our industry."
Spanos leads a delegation of international technological experts, including: Hamdan Azhar, former lead data scientist at Facebook, and chief scientist at Zap.org; Peter Mikkelsen, founder of the Nordic Blockchain Association and guest lecturer at the Copenhagen Business School; and Anthony Librera, a logistics engineering expert and company commander in the US Army Reserve.