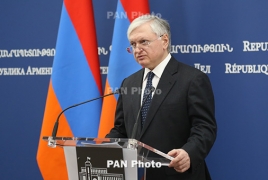 January 30, 2018 - 10:33 AMT
PanARMENIAN.Net - Armenian foreign minister Edward Nalbandian has proposed inviting Azerbaijani President Ilham Aliyev to events marking the 2800th anniversary of Yerevan's foundation.
"I think it won't be superfluous to give the leader of Azerbaijan an opportunity to take part in the events marking the 2800th anniversary of Yerevan, so that he can get acquainted with history right on the spot," Nalbandian told a press conference on Monday, January 29.
Commenting on Aliyev's statement that "the transfer of Yerevan to Armenia in 1918 is a bleeding wound for Azerbaijan," Nalbandian said this is not the first such declaration made by Azerbaijan.
"In the early 80s, the father of the current president of Azerbaijan visited the Sardarapat complex. I think that one day it will be possible for the current president to also visit the site," Aysor.am cited Nalbandian as saying.
Nalbandian reminded that Armenia is this year celebrating the 100th anniversary of the first Armenian republic: "What will be celebrated in Baku? They will note the seizure of Baku and other cities by the Caucasian army created by Turkey. This is the reality. "