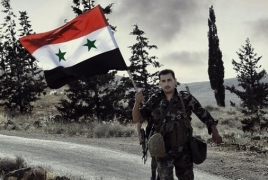 January 30, 2018 - 17:12 AMT
PanARMENIAN.Net - Elite forces of the Syrian Arab Army and allied paramilitary groups have seized a town from the Islamic State group in northeast Hama province amid what appears to be a renewed offensive push to liquidate the terrorist group's presence throughout the region, Al-Masdar News says.
Military-affiliated sources revealed on Tuesdaym January 30 that Syrian forces had taken control of the town of Rasm ad-Dahl in the northeastern countryside of Hama province after a day-long battle with the IS.
The capture of Rasm ad-Dahl by Syrian pro-government forces follows an earlier assault which saw them seize the hills overlooking the town and which ultimately pushed Islamic State fighter to withdraw from it to avoid high losses in what would have been a forlorn engagement.
Syrian Army and allied paramilitary units involved in the operation are all from first-line formations, having been identified as coming from the Republic Guard, Qalamoun Shield Forces and Military Intelligence Shield Force. Some of the Republic Guard troops are very recent arrivals to the northeast Hama front.