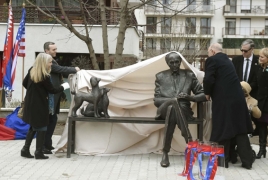 February 5, 2018 - 16:07 AMT
PanARMENIAN.Net - Mamikon Yengibarian, a Budapest-based Armenian sculptor is the creator of a statue of Hungarian-born U.S. Rep. Tom Lantos, the only Holocaust survivor ever to serve in the U.S. Congress, The Fresno Bee reports.
The monument was unveiled recently in Budapest as those attending praised the man known for his advocacy of democracy and human rights around the world.
A California Democrat in office from 1981 until his death in 2008, Lantos frequently visited his homeland, often warning against anti-Semitism while also supporting Hungarian minorities in neighboring countries.
"During his whole life, his heart was in Hungary," said his widow Annette, speaking at the unveiling ceremony on what would have been Lantos' 90th birthday.
The top U.S. diplomat in Hungary remembered Lantos as "Hungarian by birth and a dedicated American by choice" who worked to build consensus and strengthen relations between the two countries.
The statue was placed on Tom Lantos Promenade in Budapest's 13th district, near his high school, the Berzsenyi Daniel Gimnazium.
Yengibarian said he wanted to show "a magnificent, brilliant man who is not afraid ... and fights for justice and humanity until the end."