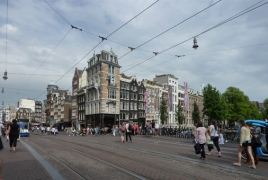 February 5, 2018 - 17:15 AMT
PanARMENIAN.Net - The Dutch government has decided to officially withdraw the Netherlands' Ambassador from Turkey, the ministry of Foreign Affairs announced on Monday, February 5, Xinhua reports.
"Recent talks offered Turkey and the Netherlands an opportunity to come closer to each other, but we have not been able to agree on the way normalization should take place," said Dutch Foreign Minister Halbe Zijlstra.
As long as the Netherlands has no Ambassador to Turkey, the Netherlands will not issue permission for a new Turkish ambassador to take up duties in the Netherlands, added the Dutch ministry.
The decision is seen as a formality because Dutch Ambassador in Ankara has not had access to Turkey since March 2017 when diplomatic tension between the two countries rose.
Back then, Turkish ministers were barred from holding rallies in the Dutch city of Rotterdam for a referendum on constitutional amendments to expand the Turkish president's powers.
In protest, the Turkish Foreign Ministry informed the Charge d'Affaires of the Embassy of the Netherlands in Ankara that they did not wish the Dutch Ambassador, who was on leave outside of Turkey, to return to his post.