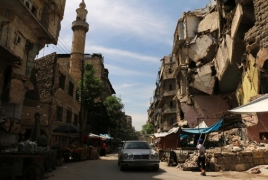 February 7, 2018 - 17:59 AMT
PanARMENIAN.Net - Elite forces of the Syrian Arab Army are on the verge of splitting an already shrinking Islamic State pocket in the country's northwest after another big push against the terrorist group during recent hours, Al-Masdar News reports.
Military-affiliated sources reported on Wednesday, February 7 that assault units of the Syrian Arab Army's elite Tiger Forces Division drove Islamist State militants from six towns and villages amid an ongoing offensive sweep across northwest Syria kicked-off in earnest on Monday.
The new settlements to be captured by Syrian troops have been identified as Al-Andren, Bayoud, Thaniyat as-Sorana, Um Jarn, Um Habes and Raboo.
By this advance, the Syrian Army is now just three or four towns away from decisively spitting Islamic State-held territory in northwest Syria in half, this just being the first step of a greater plan to divide the pocket many times over as Al-Masdar News revealed as part of an exclusive report on Tuesday.