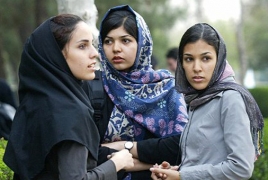 February 13, 2018 - 10:26 AMT
PanARMENIAN.Net - An Iranian woman has recently revealed a way for women in the Islamic Republic to circumvent the ban to attend football matches.
As premier league games kicked off in Iran in 2018, pictures and videos surfaced of women entering stadiums in cities across the country. They dressed in men's clothing and wore wigs or hats and fake beards and mustaches. The transformation seems to have improved their chances of success.
"Our symbolic move and peaceful protest is to draw serious attention to this issue," Shabnam, from Ahvaz, said, according to Al-Monitor.
"This is the only way that comes to our mind. If we want to enter as ourselves, they will not let us in. They didn't let us enter during the Iran-Syria game [on Sept. 5, 2017], but they let Syrian women enter Azadi Stadium and watch the match. Currently, this is the only way to impose pressure, which many other girls and I have done."
Shabnam got past the gates at Ghadir, in Ahvaz on Dec. 23, and watched Foolad Khuzestan of Ahvaz play Tehran's Persepolis for the first time.
"It had been my dream to go to the stadium since I was a child," Shabnam
The women's efforts elicited promises from Iran's current president, Hassan Rouhani, and his predecessor, Mahmoud Ahmadinejad, of a more open society in which women could attend sporting events. These promises remain unfulfilled, as senior Shiite clerics have remained opposed to lifting the ban on women entering stadiums.