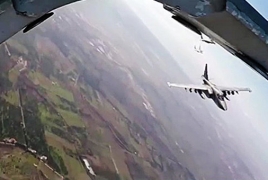 February 21, 2018 - 10:29 AMT
PanARMENIAN.Net - No Armenian citizens were among the casualties of an airstrike by the U.S.-led coalition in Syria on February 7, a foreign ministry spokesman said in a conversation with PanARMENIAN.Net
According to a statement by the Russian foreign ministry, Russian and CIS citizens were killed in the latest clashes, in which "no Russian soldiers were involved."
Citing information from the Armenian embassy in Syria, Balayan said no Armenian citizen or national was among those killed.
U.S. Defense Secretary General James Mattis has said that the U.S. was puzzled by the attack near Deir ez-Zor last week.
"The Russians told us they had no forces there initially. I think that's still the case but we don't have full clarity on what the regime forces are doing there," Mattis said over the weekend.
The U.S. and Russian militaries have de-confliction channels to prevent accidental clashes in Syria and alert each other to movements.