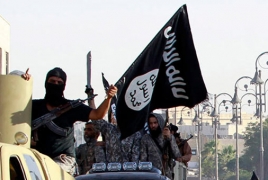 February 26, 2018 - 16:31 AMT
PanARMENIAN.Net - An Iraqi court has sentenced at least 15 Turkish women to death by hanging, after they were found guilty of joining the Islamic State group (IS), BBC News reports.
Some reports say 16 women were handed the death penalty, while others say one was jailed for life.
The women confessed to marrying IS fighters or providing the group "with logistical aid or helping them carry out terrorist attacks", the judge said.
Thousands of foreigners have fought and died for IS in Iraq and Syria.
The Iraqi government declared its war against the group over in December. While IS has been driven from its major strongholds, militants have continued to carry out suicide bombings and other attacks.
The women, said to be aged between 20 and 50, appeared dressed in black at the central criminal court in Baghdad on Sunday, February 25. Four had young children with them.
One told the judge that she had fought Iraqi troops alongside the militants, an official said.
At least 560 women and 600 children have been detained in Iraq on suspicion of being jihadists or IS fighters' relatives, AFP news agency reports. Hundreds are now being put on trial.