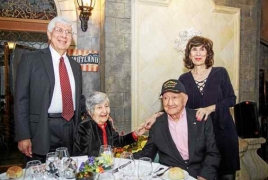 February 27, 2018 - 13:21 AMT
PanARMENIAN.Net - The family and friends of Armenian Genocide survivor Arslan Seraydarian of Broomall celebrated his 100th birthday milestone February 17, The Delaware County Daily Times reports.
The evening was filled with historic and heartwarming recollections of a life of perseverance, resilience and faith and with festive Armenian and American music, dance and cuisine. It was a fitting tribute to an Armenian-American survivor of the Genocide, a decorated World War II veteran, an accomplished professional, and a treasured family member and friend.
He and some family members escaped the Armenian Genocide, while many of his relatives perished at the hands of the Ottoman Turks. Arriving in the U.S. in 1923, he was forced to drop out of school in the 8th grade during the Great Depression to help his family survive. Serving in the Army in the European theater of World War II from 1939-1945, Arslan endured 10 months of fierce combat in which he and his fellow soldiers were forced to use dead animals for shelter. Arslan fought in the Battle of the Bulge, earning three Bronze Stars and recently the French Legion of Honor medal for helping liberate France.
After the war, Arslan was able to complete high school, college, and eventually earned a Master's degree. Arslan enjoyed a long and productive career as an aerospace engineer and teacher. He has been married to his beloved wife, Gladys, for 72 years.
Some three dozen countries, hundreds of local government bodies and international organizations have so far recognized the killings of 1.5 million Armenians in the Ottoman Empire as Genocide.
Turkey denies to this day.