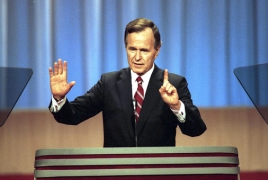 March 1, 2018 - 10:50 AMT
PanARMENIAN.Net - George H.W. Bush offered his view on the Armenian Genocide back in 1988 when he served as vice-president in Ronald Reagan's administration, the Collegian reports.
Fresno State journalism professor Jim Boren, retired executive editor of The Fresno Bee, provided a peek into his 40 years in the industry on Tuesday, February 27.
Boren discussed some of the highlights of his career, like the time in 1988 when Bush Sr visited Fresno and Boren got the chance to pose a question to him.
Boren asked Bush to discuss how he felt about the Armenian Genocide and Turkey's role in it. Bush answered that Turkey should take responsibility for the Genocide of Armenians.
As a result of his reporting, Boren said, Bush's answer on the issue was documented and used as a reference for others for years to come.
Some three dozen countries, hundreds of local government bodies and international organizations have so far recognized the killings of 1.5 million Armenians in the Ottoman Empire as Genocide.
Turkey denies to this day.