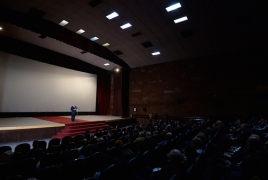 March 6, 2018 - 10:53 AMT
PanARMENIAN.Net - President Serzh Sargsyan and first lady Rita Sargsyan, as well as foreign minister Edward Nalbandian and other high-ranking officials attended the premiere of the documentary "Architects of Denial" about the Armenian Genocide on Monday, March 5.
The documentary uses expert testimony and survivor experiences to explore genocides throughout history and how continued denial of the Armenian Genocide contributes to future atrocities.
In his remarks before the guests, which also included executive producers Dean Cain and Montel Williams, Nalbandian said the film is undoubtedly a new step in the process of the international recognition of the Genocide, raising awareness and fighting new genocides.
"As Holocaust survivor and Nobel Prize laureate Elie Wiesel said, denying means killing a second time," the foreign minister said.
"He urged not to remain silent, to combat the evil of genocide since indifference and denial create new tormentors. Indeed, the authors of the film have made a vital contribution, stressing once again that 'no one is forgotten, nothing is forgotten.'"
Some three dozen countries, hundreds of local government bodies and international organizations have so far recognized the killings of 1.5 million Armenians in the Ottoman Empire as Genocide.
U.S. President Donald Trump and past U.S. presidents have failed to recognize the massacre — where 1.5 million Armenians were killed more than a century ago by Ottoman Turks — as a genocide.
Turkey denies to this day.