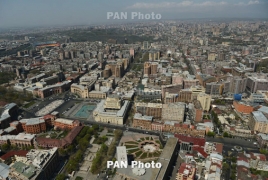 March 6, 2018 - 12:51 AMT
PanARMENIAN.Net - If Armenia ever offers a Golden Visa program, the recommended price for citizenship could be as low as $50,000, according to a report prepared by a leader in the global immigration and investment services industry, the Organized Crime and Corruption Reporting Project (OCCRP) says.
That would make Armenia a rock-bottom option in the Eastern European region, maybe in the world, for citizenship through investment. Even at that low price, the report says, the country could expect $138 million in new revenue over six years.
Arton Capital, which worked up the numbers for Armenia, specializes in citizenship-by-investment programs, commonly called Golden Visas. More than 20 countries now offer such schemes, which are popular with the wealthy and with those eager to evade taxes, including money launderers, corrupt officials, and organized crime figures. The firm has long experience organizing such programs in about a dozen other countries.
The price for Golden Visas in other countries starts at around €100,000 and goes up from there. In really popular places, it can be as much as €10 million.
The Arton report recommends that Armenia keep its price well below that to compensate for several challenges, not the least of which are its closed borders with neighboring Azerbaijan and Turkey, the level of corruption and its low GDP per capita of about $3,300.
But it also highlights the country's positives, such as its strong ties to global economic hubs and its geographic and cultural proximity to strategic markets.
Armenia offers investors access to Russia and almost all the post-Soviet states, which means around 250 million potential consumers, including in Central Asia – plus almost 82 million more in neighboring Iran, with which the country has friendly relations.
And if the country achieves visa-free access to the Schengen zone, which it might in five to seven years, according to the Arton report, it could claim to have recreated its historic role as a stop on the Silk Road linking east and west.