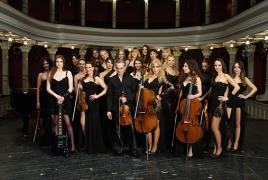 March 9, 2018 - 17:37 AMT
PanARMENIAN.Net - The Almazian Symphony Orchestra has released a new music video for the cover of the world-famous song "Seven Nation Army" by White Stripes. This is the first and only version, performed in the classic crossover genre.
The track was part of the album signed and produced by Sony Music Entertainment in partnership with France Télévisions (French National TV Network), released in 2013.
Almazian Symphony has dedicated the video to the midfielder of the Armenian national team and Arsenal playmaker Henrikh Mkhitaryan, as well as to all the football fans out there.
In 2004, "Seven Nation Army" won a Grammy Award for Best Rock Song. The widely popular hit has since become a kind of unofficial anthem for football fans around the world.
"Well-known producer and my business partner Marc di Domenico came up with the idea of readying such an arrangement. After listening to the original version of the song, I refused to record simply because I had no idea how it would sound as a result, what role the solo violin and orchestra could play," symphony founder Khachatur Almazian said in a conversation with PanARMENIAN.Net
"Although we had a secret pact with Marc - that if I don't like something, we just forget about it - he insisted and asked me to at least give it a try. Now, this is my favorite track from the album."
According to him, the arrangement was made by French show business stars Quentin Bachelet and Jacques Ehrhart
"I had a conversation with the producer of the legendary band Apocalyptica. He admitted that the band members themselves wanted to cover this song, but after listening to our version they abandoned the idea as they liked our arrangement so much," Almazian said.
Founded by Almazian (the solo violinist) and Serbian cellist Tamara Savic, Almazian Symphony is an all-female band consisting of 25 musicians from all a host of countries, including Serbia, Canada, Russia, Montenegro, Kazakhstan, Belarus, the United States, Belgium, Netherlands, and performing in the classical crossover genre.