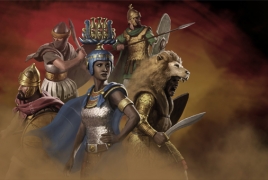 March 9, 2018 - 14:54 AMT
PanARMENIAN.Net - To celebrate the International Women's Day, Total War: Rome 2's new culture pack Desert Kingdoms will feature acient women rulers and warriors, including Queen Erato of Armenia, Polygon reports.
Erato was a princess of the Kingdom of Armenia and member of the Artaxiad Dynasty who served as Roman client queen of Armenia from 10 BC until 2 BC with her brother-husband King Tigranes IV.
Cleopatra of Egypt and Teuta of Illyria are also playable as faction leaders and generals, along with custom visuals and voice-over. They follow the addition of Zenobia, queen of Palmyra in the Empire Divided campaign, released last November. Total War:
Rome 2 was originally released in 2013, and has since been supported with numerous add-on packs, though this is the first "culture pack" since 2014.
Elsewhere in the game, women will feature in more prominent roles, where historically appropriate.
Featured ancient leaders also include Berenice Phernophorus of the Seleucids, Olympias II from Epirus.