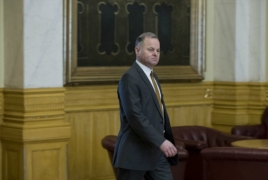 March 9, 2018 - 16:41 AMT
PanARMENIAN.Net - President of the Norwegian parliament Olemic Thommessen has resigned over controversy relating to a construction contract at the Storting assembly, The Local Norway reports.
The contract related to the renovation of grounds and logistical facilities at the parliament in a project which was first planned in 2011. Building work began in 2014.
Costs of the project increased from an estimated 1.1 billion kroner in 2015 to 2.3 billion kroner in a February 2018 estimate, reports NRK.
The parliament has been criticised for managing the project itself, rather than handing it to the Norwegian Directorate of Public Construction and Property (Statsbygg), and for spiraling costs resulting from the use of external partners and consulting firms, according to the report.
Last year, the presidency was criticised by a united parliament for mismanagement and a number of irregularities related to it. The Office of the Auditor General of Norway (Riksrevisjonen) also criticised the process and a motion of no confidence was raised against Thommessen.
Parliament paid 116 different suppliers for various services during the course of the project, according to the NRK's report.