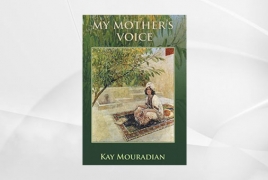 March 9, 2018 - 15:35 AMT
PanARMENIAN.Net - Kay Mouradian, the daughter of an Armenian woman who survived the Genocide at the age of 14, wouldn't really learn about the details of the horrific event until she began writing a book on the subject called "My Mother's Voice", the Daily Bruin reports.
The novel and accompanying documentary focus on her mother's life during the Armenian Genocide, which Mouradian researched for 10 years in libraries, book shops and other countries. Mouradian won the Armenian Genocide Awareness Legacy Award at the Armenian National Committee of America Western Region's annual awards banquet on Feb. 24 for spreading awareness of the topic and said she hopes a personal focus on the Armenian Genocide will help people, especially teachers, remember a part of history that is often forgotten.
Mouradian said the idea for the book first came from her mother, who was suffering from severe dementia. As her condition got worse, she told Mouradian to write a book about her life and the Armenian Genocide. However, Mouradian was teaching throughout Los Angeles and had plans to go to Beijing to teach overseas at the time.
But her plans changed – Mouradian never went to Beijing and ended up writing the novel instead. Mouradian said she wanted to help the Armenian Genocide retain its place in history, and as a former teacher, she wanted to give other educators a more accessible way of understanding the Genocide.
"I thought to myself, 'How do I make it easy for teachers to get a grasp of what happened in 1915 to make their job easier and to get their interest involved?'" Mouradian said.
She researched the Genocide using a variety of sources including the history and memoir sections in used bookstores and international trips. At the bookstores, Mouradian would open books to the table of contents and buy them if she saw the word "Constantinople" in it. She also went to UCLA libraries for books on World War I and got in touch with the Library of Congress manuscript division for 10 microreels.
During three trips to Turkey and two to Syria, she searched for her mother's rescuers, whose descendants remembered her mother decades after the end of the Genocide, she said. She also traveled the routes her mother took from her village to Aleppo and through the Syrian desert.
However, Mouradian added to the complexity of "My Mother's Voice" when she decided to create a documentary with the same name and focus as the novel. Mouradian said she wanted to create the documentary to help students understand the Armenian Genocide via a more accessible medium.
Some three dozen countries, hundreds of local government bodies and international organizations have so far recognized the killings of 1.5 million Armenians in the Ottoman Empire as Genocide.
Turkey denies to this day.