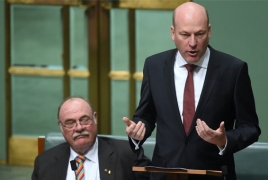 March 10, 2018 - 14:53 AMT
PanARMENIAN.Net - The Federal Member for North Sydney and Chair of the Armenia-Australia Inter-Parliamentary Union, Trent Zimmerman has called on the Australian government to recognise the Armenian Genocide, while speaking in support of a motion recognising the Yezidi Genocide in Australia's House of Representatives last week, the Armenian National Committee Australia reports.
Zimmerman said: "Can I say that I think it is important that this parliament recognises genocides such as those that the Yezidi have suffered. It's an important message to the world community that the international legal and global order will not ever tolerate these types of actions.
He added: "I look forward to the day when this parliament can consider a similar motion in relation to that long and deeply felt genocide that was perpetrated against the Armenians a hundred years ago."
The motion, which was moved by the Member Dunkley, Chris Crewther, calls on recognising the Yezidi Genocide, and had wide support from all speakers on February 26. Speakers included Crewther, Zimmerman, Anne Aly, Mike Kelly and Gai Brodtmann. It condemns the genocide perpetrated against the Yezidis by the Islamic State group.
The motion is scheduled to resume debate and possible resolution at a future sitting.
The Armenian National Committee of Australia's (ANC-AU) Executive Director, Haig Kayserian welcomed the motion recognising the Yezidi Genocide.
"Armenian-Australians are proud that our Parliament is taking an active role calling out genocides, as they occur," Kayserian said. "It is through such assertive and absolute recognition and condemnation that society has its best chance of stamping out such crimes against humanity."
Kayserian praised Zimmerman's leadership on calling for a "similar motion" regarding the Armenian Genocide.
"Mr. Zimmerman has proven again that he is steadfast in his support for justice for the Armenian Genocide," he said. "We look forward to working with the Member for North Sydney and his colleagues on ensuring Australia joins the growing ranks of righteous nations which have recognised the Armenian Genocide."