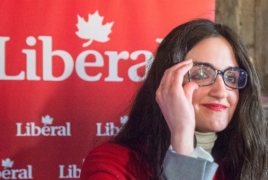 March 14, 2018 - 17:29 AMT
PanARMENIAN.Net - Canadian lawmaker MP Emmanuella Lambropoulos recently commemorated in the Commons the 30th anniversary of the Sumgait pogrom, in which the ethnic Azerbaijan population attacked members of the Armenian population of the town of Sumgait, The Suburban reports.
The tragic event, which commenced on the eve of February 28th, 1988, resulted in the death of 200 Armenian men, women, and children and is considered to be the start of the Karabakh War.
Azeris planned and orchestrated the brutal massacres which targeted Armenians solely for their heritage following their peaceful protest calling for historic Armenian lands to be liberated.
The MP said the attacks took place in February 1988.
"This was a time marked by serious acts of violence, riots, and widespread looting during which Armenian civilians were attacked and killed," she explained. "This unprecedented violence shocked the entire world.
"Thirty years later, Armenians are commemorating these tragic events in which many lost their lives. This anniversary reminds us of what a privilege it is to live in a country where diversity and inclusion make us strong and where various ethnic and religious communities can participate equally in our country's political life. This anniversary also reminds us that, as Canadians, we have a duty to condemn all acts of violence and to play an active role in promoting and preserving peace in Canada and around the world."