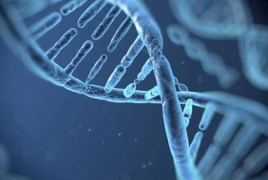 March 14, 2018 - 18:56 AMT
PanARMENIAN.Net - A large genome study by researchers at the University of Edinburgh and Harvard University has found over 500 genes that can be attributed to intelligence. The study was published in the latest issue of the journal Molecular Psychiatry, News Medical reports.
The data comes from the health database called the UK Biobank. The team of researchers compared DNA variants from over 240,000 participants in the study. They found 538 genes that are linked to intellectual abilities among people. There are a total of 187 regions in the human genome that are associated with skills related to thinking and creating. These genes have been associated with keeping a person alive for longer as well.
Despite this, experts say, it is difficult to predict a person's IQ from genes alone. The team analyzed the DNA of a group of people and tried to predict their intelligence based on the genetic make up only. They ended up being able to predict difference in intelligence only 7 percent of the time based on the genes alone.
According to researcher Dr David Hill, of the University of Edinburgh's Centre for Cognitive Ageing and Cognitive Epidemiology (CCACE), who led the research, a large number of genes predicting intelligence could be identified. He added that in addition they could also predict some of the biological processes associated with the genetic influence that can make a significant difference to intelligence in the individuals. He said that in some individuals they could predict intelligence just by looking at the DNA and genetic makeup of the individuals.
Professor Ian Deary, also from CCACE said that environments and genes both can make a difference to intelligence. What this study adds it that health and intelligence are also linked. People who are intelligent tend to be fitter and live longer and it is all in their genes. Dr. Hill says that there are two biological processes called "neurogenesis" and "myelination". Neurogenesis means formation of new nerve cells and brain cells while myelination of the central nervous system means forming sheaths over the nerves. These are linked to intelligence. Genetic influences on these processes have been seen he said.
The study shows that 50 to 80 percent of the intelligence in a person is dependent on the genes and the rest is influenced heavily by the environment, upbringing, education etc. Nutrition too plays a role. Well nourished children who live in safe environments and are in a stimulating and loving home with minimal pollution tend to score higher at IQ tests compared to children who live in strife ridden atmospheres and are malnourished.