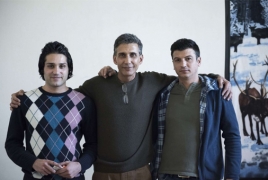 March 15, 2018 - 13:42 AMT
PanARMENIAN.Net - The United States Department of State and Austria are "working together on protection options" for dozens of Iranian refugees who were denied admittance to the U.S., a spokeswoman said, citing, as one such option, resettlement in Armenia, Fox News says.
Members of Iranian religious minorities left their homeland more than a year ago at Washington's invitation with the intention of coming to America. But now they may be barred from the U.S. for security reasons and could be placed in imminent danger of deportation back to the Islamic Republic – where they likely would face persecution.
This crisis began in fall 2016 when 87 members of Iran's repressed religious minority communities were selected to benefit under the Lautenberg Amendment – a process initially adopted to rescue Jews from the former Soviet Union and expanded in 2004 for Iran's religious minorities.
After a preliminary review of their cases, the minority members – ranging from Armenian and Assyrian Christians to Mandeans and Zoroastrians – were invited to travel to Vienna, Austria for final vetting before resettlement in the U.S. Soon after arriving in Vienna, however, they were put on a security hold, and last month were finally rejected for undisclosed security reasons by the U.S. Homeland Security Department.
The refugees include: a wheelchair-bound, 87-year-old grandmother; a Mandean man whose wife and 4-year-old twin daughters were admitted into the U.S. a year ago: and Armenian and Assyrian Christian, Mandean and Zoroastrian families with relatives in the U.S.
The State Department seemed initially taken by surprise at the Homeland Security Department rejections and has no policy for dealing with them. In the past, the few people denied admittance to the U.S. either returned to Iran or applied for Austrian asylum. Troublingly, their outcomes were not tracked.
At a State Department briefing on February 23, a spokeswoman said that "the United States will not force anyone to return to Iran," and that every case will receive "careful review." In a follow-up email to Fox News, she added that the U.S. and Austria are "working together on protection options." She cited, as one such option, resettlement in Armenia.
These statements provided little reassurance. A week earlier the 87 refugees had received their final Homeland Security Department rejections and were visited by Austrian police, who warned of their imminent deportation to Iran unless they claimed asylum in Austria.