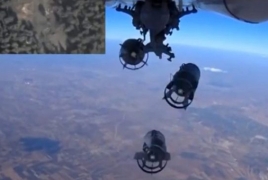 March 15, 2018 - 18:25 AMT
PanARMENIAN.Net - Several headquarters and positions for the FSA-affiliated jaysh al-Izza were razed to the ground as Russian fighter jets conducted fatal airstrikes in north Hama countryside in Syria, Al-Masdar News reports.
The deadly strikes come after a jihadi alliance – in which Jaysh al-Izza was part of – launched a surprise attack on Syrian Army positions, thus breaching the agreed-on ceasefire.
Local sources reported that KAfr Zita town which acts as the heartland of Jaysh al-Izza was heavily bombarded by Russian jets. Headquarters and command centers for the group were reported completely demolished.
The jihadi assault was unequivocally thwarted with the government troops successfully restoring the towns of al-Hamamiyat and Kernaz after losing them for several hours.