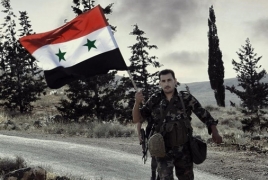 March 16, 2018 - 14:58 AMT
PanARMENIAN.Net - According to preliminary reports from Damascus, the Syrian Arab Army (SAA) and Jaysh Al-Islam have reached a reconciliation agreement in the East Ghouta, Al-Masdar News reports.
The reports claim that the Syrian army and Jaysh Al-Islam agreed to terms of a reconciliation agreement that would have the latter turn their heavy weapons into the government and Russian military.
Furthermore, seven rules were established:
- Jaysh Al-Islam will agree to their release prisoners in Douma, including those from the Syrian army.
-Jaysh Al-Islam will hand over all of their heavy weapons to the government.
-Jaysh Al-Islam will give the government and army full access roads to Douma; this will allow the wounded to be transported to local hospitals.
-Those militants in Douma will decide whether they will go to Idlib, Daraa, or stay in the East Ghouta to settle their cases with the state.
-Food staples and aid will enter Douma and a local police unit will be formed by civil leaders in the district.
-State Institutions will start to work inside Douma after a "short period". The basic services of water, electricity and sewage system will take priority.
-Individual arms ownership will be organized within existing laws governing administered by the State.
The military source added that the Russians have mediated the terms between both parties.