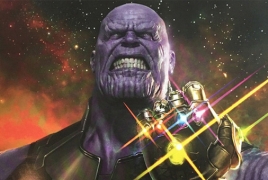 March 16, 2018 - 17:34 AMT
PanARMENIAN.Net - Disney treated Marvel fans to the final trailer for "Avengers: Infinity War" on Friday, March 16, Variety reports.
The trailer showcases all of the Marvel Cinematic Universe leaders, including Iron Man, Black Panther, Captain America, and Black Widow, struggling in their fight against Josh Brolin's villain Thanos.
"Infinity War" will combine old-school MCU stars like Robert Downey Jr., Chris Evans, Mark Ruffalo, Chris Hemsworth, and Scarlett Johansson with newcomers including "Spider-Man: Homecoming's" Tom Holland, "Black Panther" star Chadwick Boseman, and "Thor: Ragnarok" breakout Tessa Thompson. The Guardians of the Galaxy, lead by Chris Pratt's Star-Lord, will also be assembling with the Avengers in the tentpole.
The film is directed by Anthony and Joe Russo, who helmed "Captain America: The Winter Soldier" and "Captain America: Civil War." The Russo brothers will also direct the untitled fourth "Avengers" movie, which is expected to conclude this chapter of MCU films.
The release date for "Infinity War" was recently pushed up a week to April 27.